HOT…HOT…HOT… was the theme for the weather for this the 5th & final of this seasons cricket challenge matches against the chaps from Arthur M Griffiths & Son Limited (AMG). Taking place on the evening of the 3rd August the weather was perfect for the evenings play.

Having won the toss the AMG team decided to bat first to set the target for the Coles Grant & Jones (CGJ) team to aim at.

The AMG opening pair of Nigel Pugh & Martin Smith took to the crease but hardly managed to make any impact with Nigel scoring just 2 runs to Martins 1 before being dismissed. Glyn (Designer Footwear) Adey was next up & he managed to double the AMG score by adding 4 more runs to their total.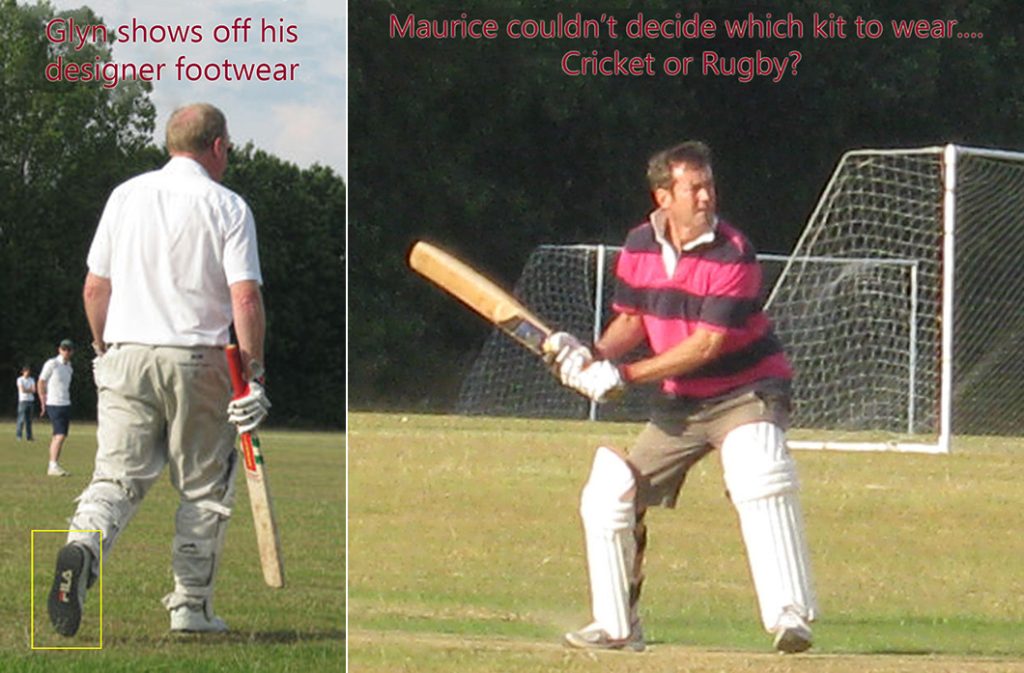 Maurice (Scrum Down) Walsh & his son Charlie were in to bat next & Maurice made a very respectable 27 runs making him top scorer for the AMG team. Charlie managed to add another 13 runs to the total.
Richard (The Man in Black) Boult decided to take on a youthful runner in the form of Edward Craddock during his batting stint making 12 runs.
Roger Boult knocked up 7 runs & Chris McMahon added another 10.
Alan (Competitive Dad) Craddock was determined to make more runs than his son Edward & was rewarded, much to his delight, by scoring 12 runs to Edwards 5.
Following AMG's batting session there was a short break in the proceedings whilst the teams changed over & took on some very welcome fluids i.e. beer! The weather was certainly making itself felt.
The AMG team had set a 119 run target for the CGJ team to beat.
David Smith was first up for the CGJ team with Ian George as his partner. Dave went storming off managing to clock up 20 runs in his first innings with Ian contributing 5 runs during this period. This partnership left the crease after their 4 over allotted batting period.

Taking their place was Matt Nicholls & Dave's brother Paul. Matt scored 6 runs & I think Paul was aiming to better his brother's score but fell a little short at 16 runs.

Next up was Carl (El Capitano) Jones who managed to put 3 runs into the pot.
Following Carl was Leigh Moore who scored a respectable 15 runs before falling to a fantastic catch from Maurice. (Apparently reports are that he is a little difficult to live with following this achievement!).
Geoff Stevenson made a short appearance scoring 5 before being caught by Alan Cradock's son Edward.

The next CGJ batsman managed to break the bat during his innings. Thanks Peter (Broke Bat Mountain) Allbutt. Glyn who was keeping wicket had a word in the ear of bowler Martin Smith, I don't know what he said but Peter who had scored 7 runs up to this point was bowled out the very next ball! Glyn you must tell us what you said to Martin.
Tail enders Chris Tooze (4 runs) Tom Regan (13 runs) & John Cattell (0) finished off the CGJ first batting session.

By now the match could have easily swung either way & with only two overs left the CGJ team were desperately chasing the target score of 119 in an effort to retain their unbeaten record this season.

Dave Smith & Matt Nicholls (6 more runs) were back in to bat by now & this partnership just managed to tip the CGJ team over the AMG total with Dave adding another 17 runs making him the top scorer of the match with a cumulative total of 37 runs. With only a few balls left to bowl the CGJ team had achieved their goal with a total of 121 runs.

Once the teams had retired from the field of combat it was back to the clubhouse for some after match chit chat a few beers & a welcome spot of grub from the barbecue which seemed to hit the right spot.

A big thank you goes to the organisers of both teams who took the time & effort to organise the event. Thanks also to everyone else connected with the event, all those who attended, played, scored, umpired, took photographs, carried the equipment to & from the field of play & even those who just turned up for a drink & nosebag! All without whom the fantastic evening would not have been possible, so give yourselves a big pat on the back.

Everyone at Coles Grant & Jones is already looking forward to next years challenge match against the AMG team when we hope to be blessed with equally good weather that we enjoyed this year. See you all there.

The Teams from Left to right: –