As you will see from the group photograph above we all enjoyed the fantastic weather for our 4th cricket challenge match against the team from G F Tomlinson (Birmingham), which took place on 14th July 2011. This is the first year that a team from G F Tomlinson have taken part in the Coles Grant & Jones (CGJ) cricket challenge & they managed to field a team of 9 players pitted against the same number from CGJ.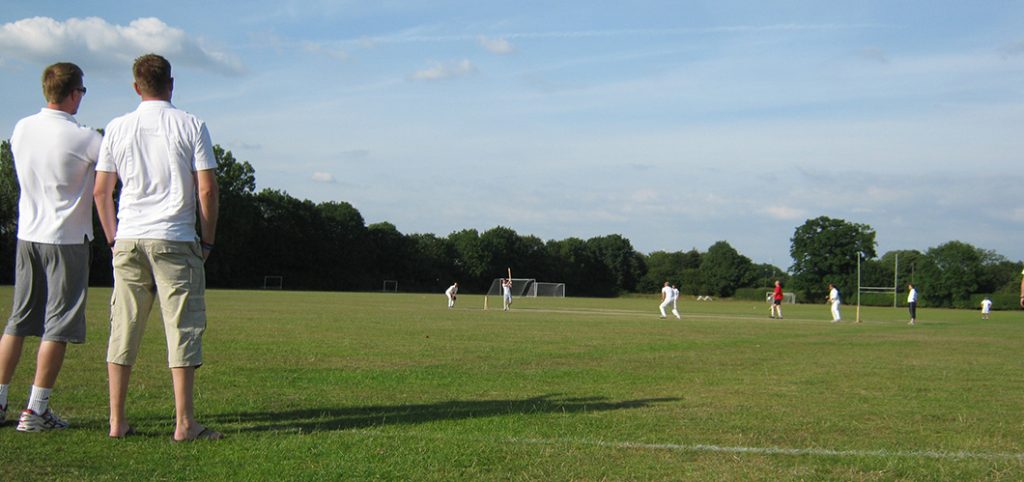 The Tomlinson team decided to bring along their 'professional' scorer & cricket aficionado, Dawn Hewitt who says she has been following cricket since she was eight. That's what being born & bred in Yorkshire does to you!

The Tomlinson team won the toss & decided to bat first with Director Peter Hood, (elected by his colleagues to bat first… without his knowledge!), teaming up with Luke (Big Bat) Everiss to face the first barrage of balls. Unfortunately for Peter he was soon making his way back to the refreshment area after scoring only 1 run.

Peter's replacement Geoff Ellis faired better scoring 9 during his first session facing the CGJ bowling. Geoff was then dismissed whilst attempting to smash a shot to the boundary, which was intercepted by CGJ's Leigh (The Cat) Moore's reactive one-handed catch. Luke continued giving the CGJ bowling a bit of a hammering clocking up 17 off his first batting stint.

Following on in order of appearance saw Tom Caughey, Geoff Gibbs, Duncan Hayes, Simon Carter, Nigel Newman & last but not least Nick Galliers each taking their turn in the crease for their first innings.

Tomlinson's top scorer turned out to be Luke who scored a cumulative total of 24 during his two batting periods. Almost taking the top slot was Nigel with 23 runs. On their tails were Duncan & Simon both scoring 17 runs each. Duncan deserved more but despite managing to regularly hit the ball was held at 17.
After all 20 over's had been delivered Tomlinson's total of runs inclusive of extras & wide's amounted to 135 taking over as this years highest scoring visiting team with 1 match left to play.
After a short interlude the teams changed positions & the Coles Grant & Jones team took up the challenge to exceed the 135 runs set up by the Tomlinson team.
CGJ decided to play the youth card putting brothers Will & Charlie Briscoe in to bat first. This was a mistake with Charlie (Golden Duck) Briscoe being dismissed almost immediately for no score.
Wills next partner was Matt Nichols who fared much better giving the CGJ score a much needed boost by adding 25 runs, which together with Will's score of 16 runs aided the CGJ quest to better the Tomlinson score.
Leigh Moore followed Matt & Will to the crease with Craig (The Gaffer) Coles. Leigh added a grand total of 2 runs to the score!!
That earlier catch must have taken more out of him than we realised & he retired for a drink & sit down. Craig added a further 5 runs to the CGJ total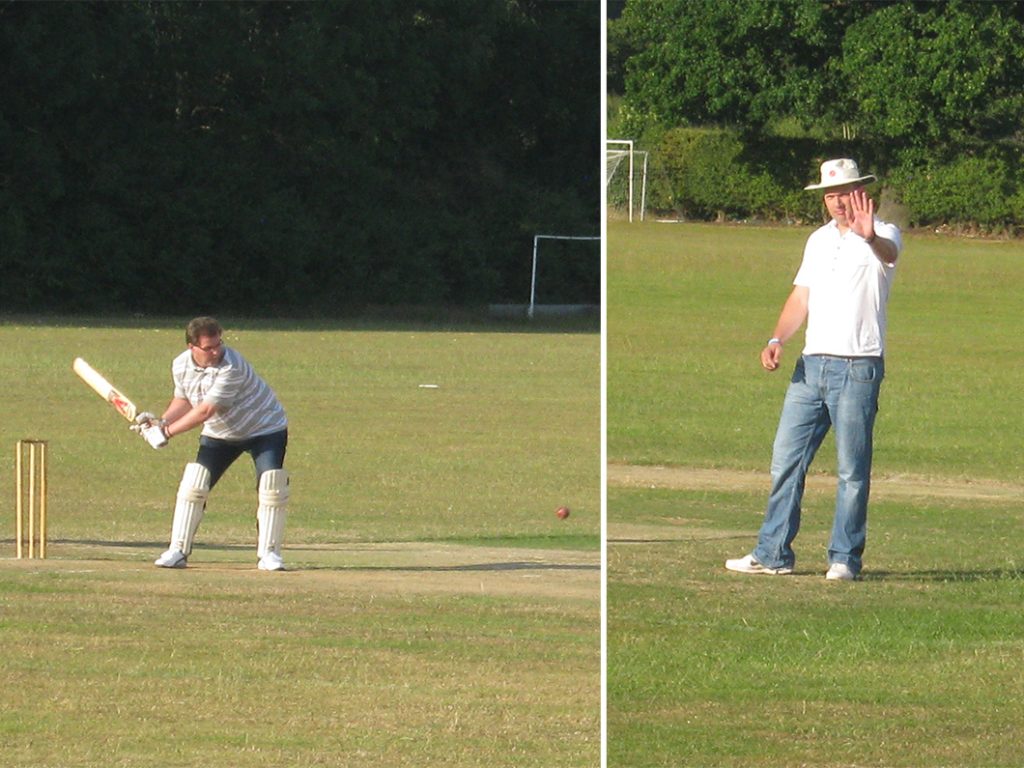 The CGJ score was also increased by Tomlinson's Peter Hood's 32 ball over! Thanks Peter!
Geoffrey Stevenson joined Craig for a short session & managed to 'fan' the ball on multiple occasions before connecting a couple of times scoring a total of 6 runs before being run out.

Peter (One Game) Allbut made his one & only appearance for the CGJ team this year & swung his way to 14 runs.
Tom Regan was the last of the CGJ players to face the Tomlinson bowling for their first round of batting.
Will Briscoe went out for his second batting session facing the bowling of Duncan Hayes. Duncan did not know what to do for the best as Will smashed the ball to the boundary time & time again scoring the only 6 of the match (Have you stopped Laughing yet Dawn?)
Will was the top scorer of the match scoring a total of 49 runs. Meanwhile in the side lines Will's sibling Charlie was just itching to get back out to at least score some runs (much to the amusement of all those in the refreshment area). He did bat once more & scored 4 before the CGJ score exceeded 135 & retired.
The teams went back to the Old Silhillians Club House to mull over the match & tuck in to a barbecue & enjoy a few drinks.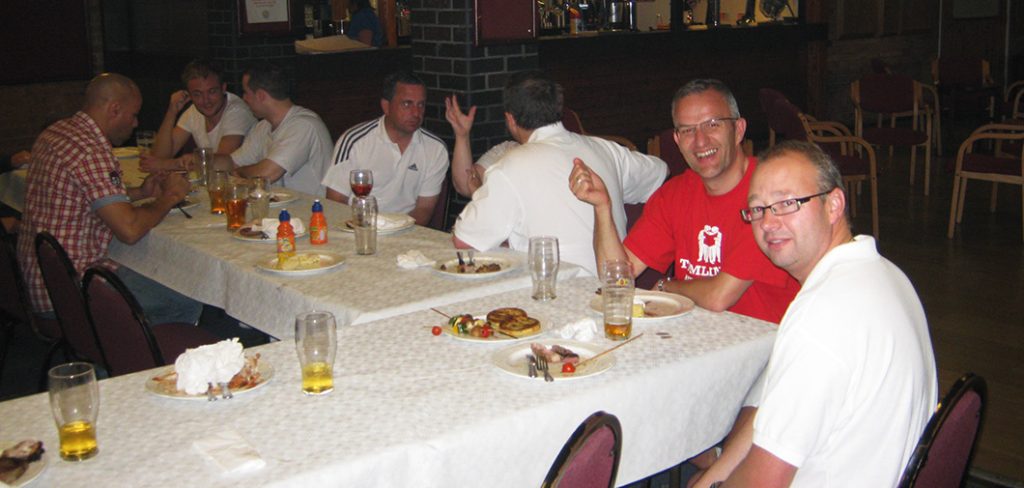 Particular thanks must go to G F Tomlinson's Duncan Hayes who took the time & effort to organise their team & spectators.
Thanks also to all participants, players, supporters, scorers, umpires, scorers, fetchers & carriers' shelter erectors, & photographers all who made a great contribution in making the evening enjoyable.

We hope that this will not be the first & last time CGJ are pitted against the Team from Tomlinson & the challenge will be laid down once more next year. We look forward to seeing you there. The Teams from Left to right: –