This year Coles Grant & Jones welcomes a new opponent in our annual cricket challenge from ISG Regions.
ISG managed to field a team of 8 out of their Birmingham City Centre office & this was supplemented by 2 'volunteers' from the Coles Grant & Jones squad making it an even 10 a side match.

With just a few clouds overhead it seemed that we could be in for a fine evening & we proceeded with the intent of playing the full 20 over's each.
ISG won the toss & elected to bat first sending out their trump card Andy 'Fizzer' Fisher partnering with Martyn Brackenbury. Andy soon had the ball all over the park knocking fours & sixes every few balls. It looked like the Coles Grant & Jones team would have their work cut out to keep up with this pace of scoring! By the time Andy's allotment of four over's was up he had accumulated a whopping 24 runs with Martyn adding 9 more before being bowled out by Will Briscoe.
Following Andy & Martyn were Wayne 'Bat No 2' Flannery & Mike 'One Hit' Thorne. Wayne was ISG's second highest scorer with 14 runs to his credit. Unfortunately Mike did not fare so well failing to add to the ISG score sheet with his wicket falling very quickly to Craig's close in catch. That's the way it goes Mike!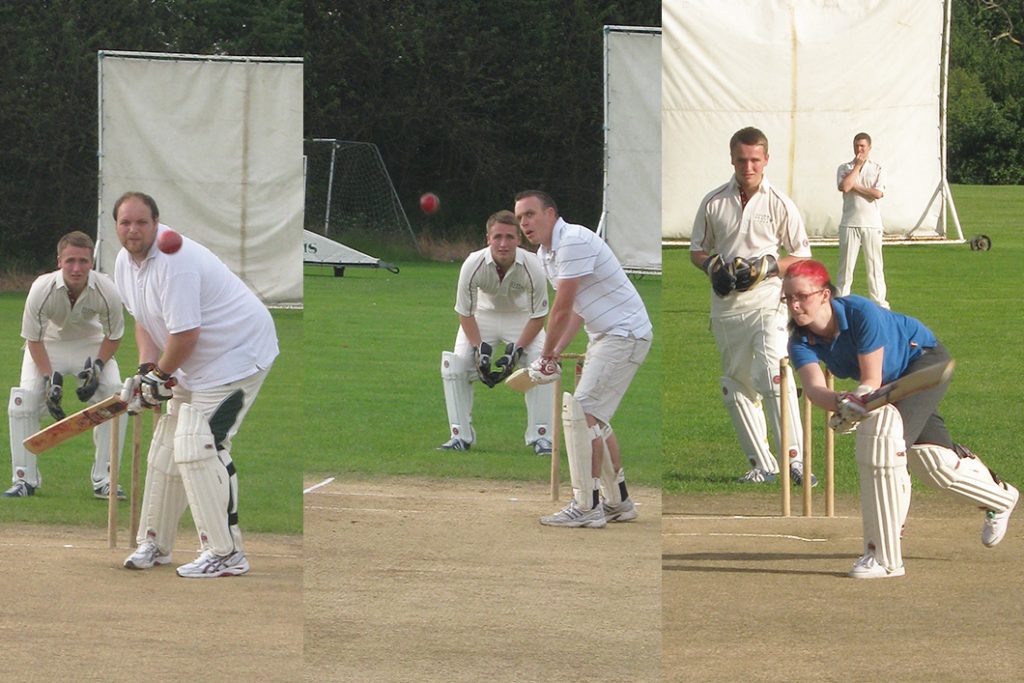 The ISG teams secret weapon was in next, the only female member of their team Lydia 'The Tempest' Shakespeare, perhaps the ISG team were expecting CGJ to take it easy on her! Some hope! This was war!!
Lydia proved her mettle by defending her wicket & scoring 5 runs out doing several of her male counterparts. Well done Lydia.
Garry 'Slow Arm' Cramp made a brief appearance scoring 3 runs (much to his relief) before being bowled out by Henry Briscoe.
Steve 'Iron Man' Cheshire (he takes part in triathlons you know) was next up but his fitness did not come to his rescue as he fell to the bowling of Alex after scoring just 2 runs. Sean O'Keefe repeated Steve's performance by scoring 2 runs before succumbing to the bowling of Henry.
The two wild cards on loan from the CGJ squad were in next, Geoff 'The Splitter' Stevenson & Peter 'Turncoat' Allbutt. Geoff added 9 runs to the ISG score & Peter a further 3, Peter being bowled out by Leigh Moore.
The CGJ team trembled in their boots as Andy once again took to the field. He quickly resumed his former prowess with the bat by belting the ball about at will. He clocked up another 46 runs bringing his total to an all time record of 70 runs!!!! Martyn who was his partner during this second period of batting could only stand & watch in awe but Martyn still managed to add another 3 runs to his tally. Thank goodness the 20 overs were up.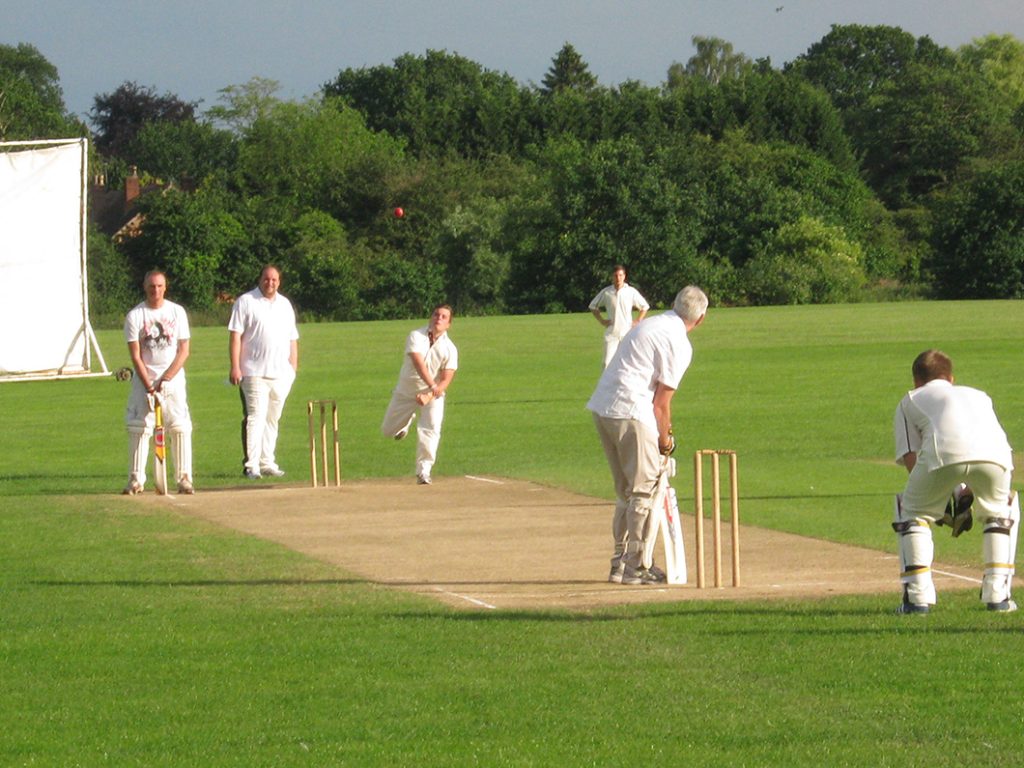 The teams switched positions & the CGJ team were chasing the respectable total of 123 runs set by the ISG team.
The younger element of the CGJ team led the attack on the ISG score as Ashley Jones & Henry Briscoe took their positions on the field of play facing the bowling of Wayne. Ashley managed to get off the mark scoring a single run before being bowled out by Wayne, with Henry managing a healthy 25 runs.
William Briscoe was next to the crease with Alex but Alex didn't stay long being bowled out by Martyn for no runs & William hitting 6 runs before being bowled out by Andy. The 123 target seemed far off.
The youngest member of the CGJ team, Alister 'Young Blood' Coles took his position & managed to add 10 runs to the CGJ total being joined by his father Craig. Following Alister's departure Craig continued his scoring run to a total of 30 runs overall making him the top scorer for the CGJ team. As Craig neared the end of his quota of balls he was run out being stumped by Peter 'Turncoat' Allbutt…. You didn't want to do that Pete!!
Garry Cramp's 'unorthodox' method of bowling supplemented the CGJ score by the number of wide balls he bowled! More practice in the nets for you before next year's outing.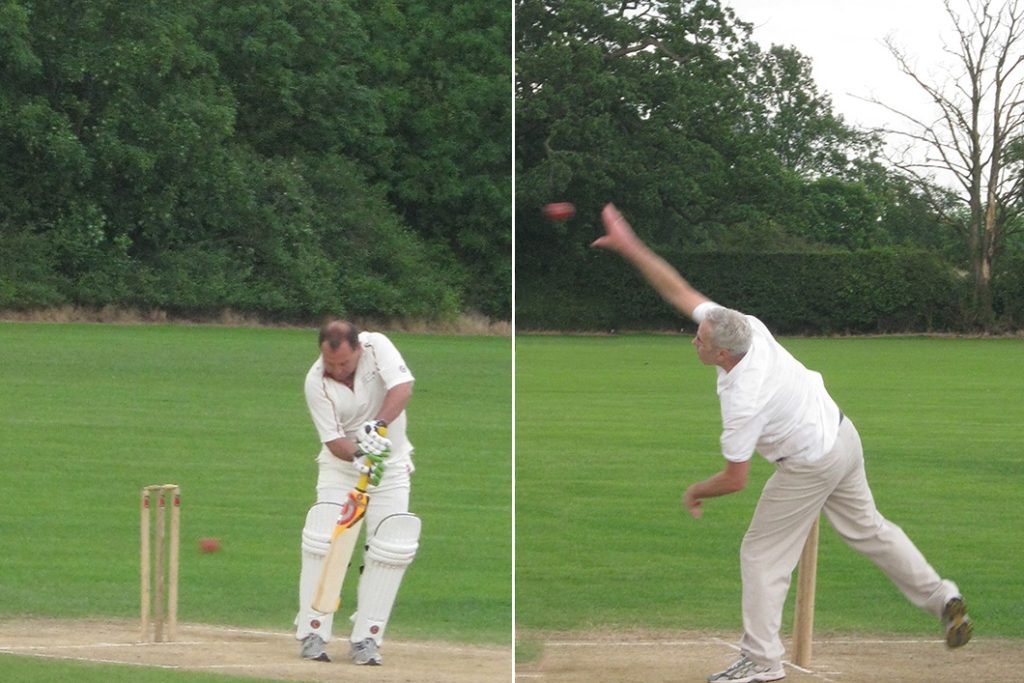 Carl Jones followed Craig & Alister into bat scoring 9 runs before being bowled out by Martyn. The partnership of Leigh Moore & Chris Tooze added another 9 to the running total. Leigh scored 7 before being run out & Chris scored 2 before falling to the bowling arm of Lydia. Chris 'Embarrassed' Tooze made the walk of shame back to the hospitality area. Lydia please can you arrange to coach Garry before next year's match.
Ashley once again faced the ISG bowling & put another 3 runs on the score sheet, taking Coles Grant & Jones to 124 runs & a victory with 3 wickets in hand.
The ISG team helped in taking down the hospitality suite & carting it all back to the parking area. Thank you.
Both teams then settled into the 'Silhills' Clubhouse for a spot of food & drink.

Many thanks to the ISG team for getting such a great team together for their first CGJ cricket challenge. We hope that you all enjoyed the evening as much as we did & we very much look forward to seeing you next year.