This year's cricket challenge begins with the annual match against Vinci Construction.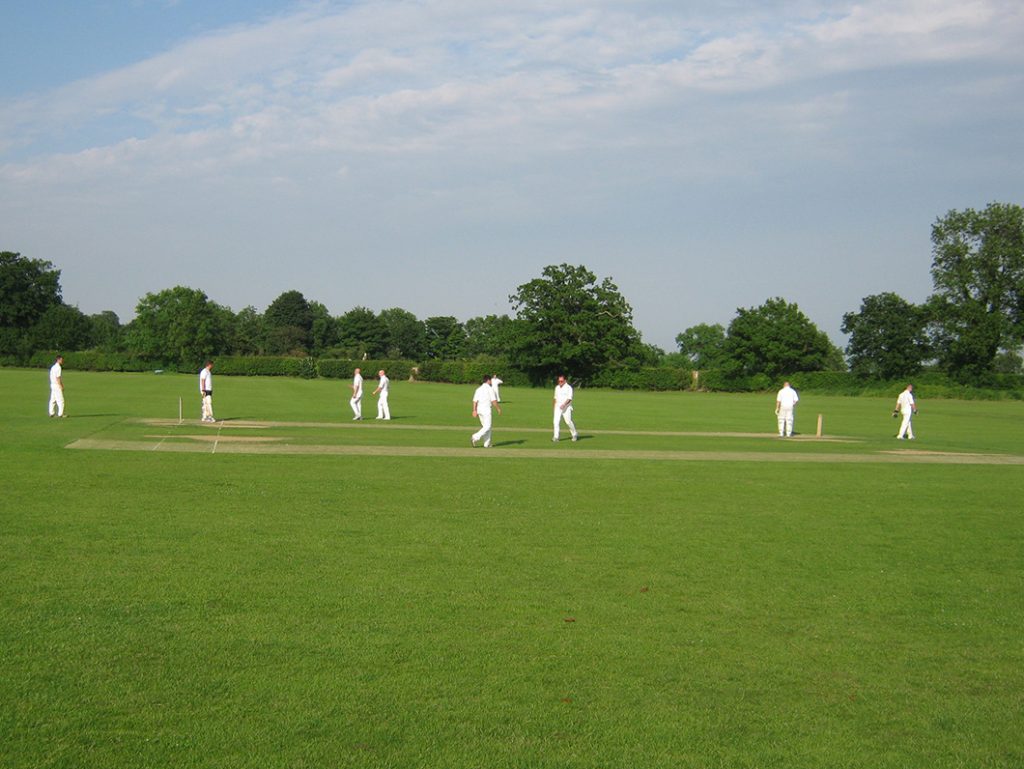 Once again the enthusiasm from the Vinci team was fantastic & they managed to get a team of 10 together.
We were all looking forward to this year's match after last year's wash out). The weather could not have been any better with glorious sunshine bathing the pitch, suntan lotion was the order of the day particularly for the follically challenged.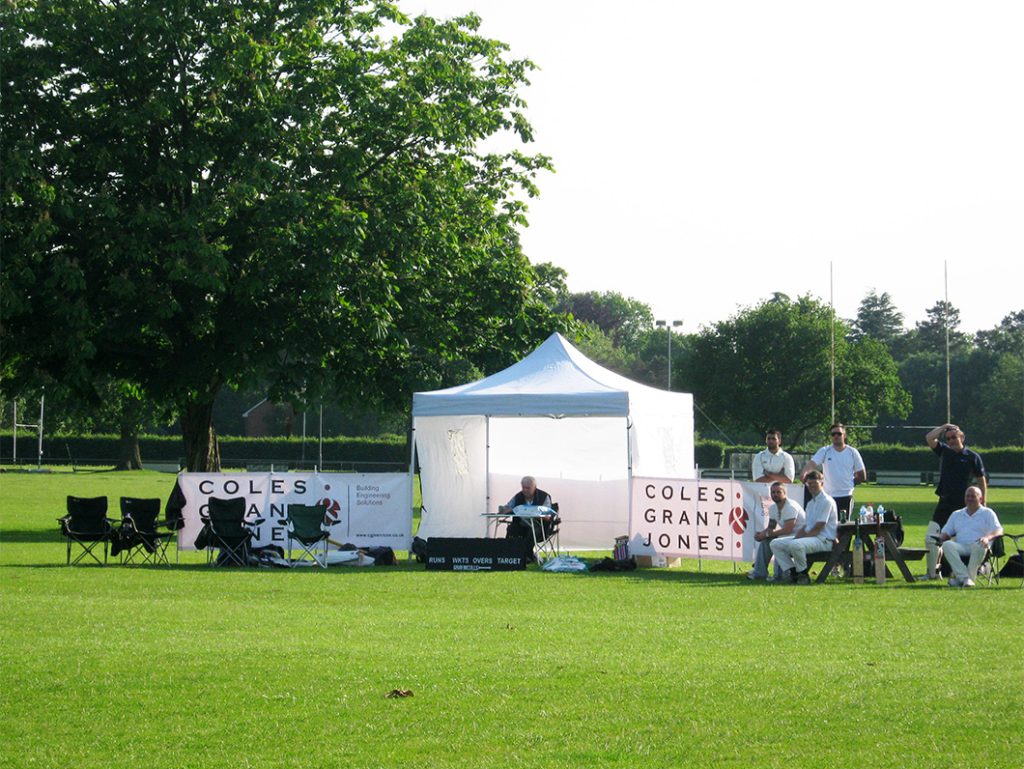 Vinci were in to bat first & set off at a blistering pace putting in Ben Jones & Oliver 'Dead Eye' Deacon as their fist partnership. Ben knocked out 15 runs during his allotted time with Oliver just pipping him by scoring 20 runs.
Next up was Richard Peevor who unfortunately did not last too long before being bowled out by Craig 'Gun sight' Coles. Partnering Richard was Roger 'Gunner' Green who managed a respectable 11 runs before being bowled out by Geoffrey Stevenson. Following up was Greg 'Digger' Dickie who did rather well by adding another 13 runs to the score board.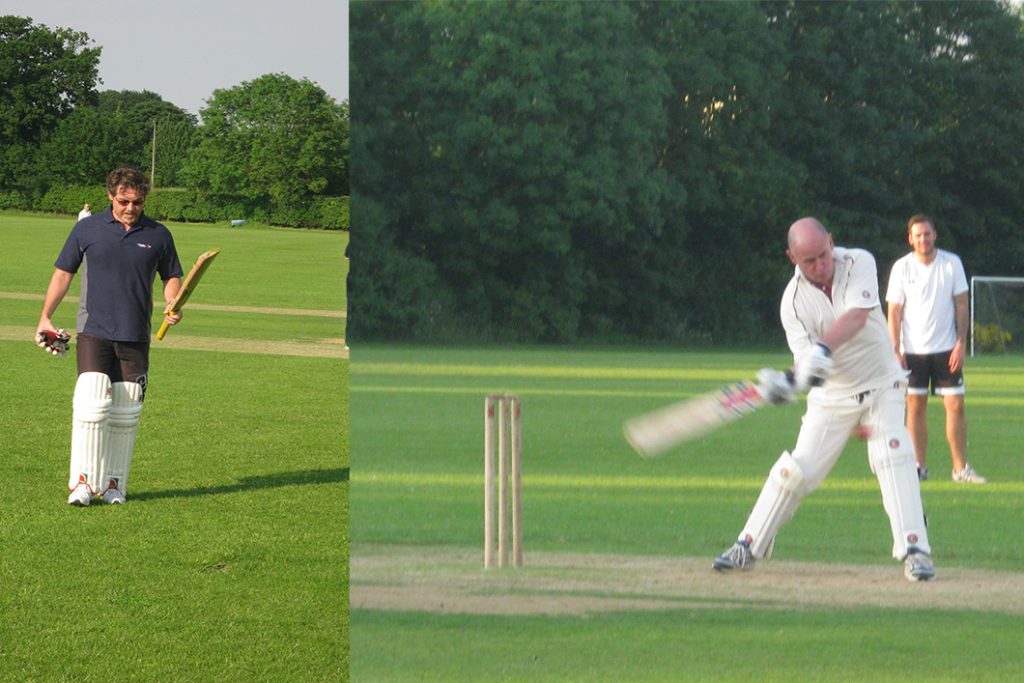 James Pottinger took up the bat & added another 6 runs to the tally before being bowled out by Alister Coles. Sat Sandhu was next to the crease but only managed to put 2 more runs on the score sheet before being caught out.
John Burland picked up his weapon of choice (in this case the cricket bat) & entered the field of play & added another 8 runs to the Vinci running total before succumbing to a catch. Sandesh Kale popped in to make 1 run before being bowled out. Lee 'Tail Gunner' Powell was the final Vinci team member to face the ball before the batting rolled around to allow Vinci to face the remaining balls of the 20 over match. Lee put another 10 runs on the sheet before falling to a catch from Will Briscoe.
By now the Vinci team had clocked up a very respectable score with still more to come as Ben Jones came out for his second appearance & adding another 7 runs. Oliver Deacon also making his second appearance put yet another 16 runs to the total & making him Vinci's top scorer, Well done!
Sandesh popped in again to add 1 more to the final score. Altogether with the wide balls added in Vinci had achieved a final score of 170. This is a record in recent history of the annual cricket challenge.
Coles Grant & Jones now had a daunting task ahead of them as the teams changed over. CGJ put two of the younger members of their team in to bat first in the form of Henry 'Hard Hit' Briscoe & Craig's son Alister Coles. They were facing the bowling from two of Vinci's fastest bowlers Richard & Sandesh. They were under attack from the outset; Richard & Sandesh really meant business. Henry scored 5 before being bowled out by Richard. Alister managed to stay alive before falling to the formidable bowling of Sandesh 'The Swift' Kale.
Henry's brother Will was next in & managed to put a few more on the sheet before also being bowled out by Sandesh. Sandesh was now showing that bowling was his forté.
By now it was clear that CGJ needed a miracle to pull this one back & so deployed their secret weapon, See accompanying picture for explanation.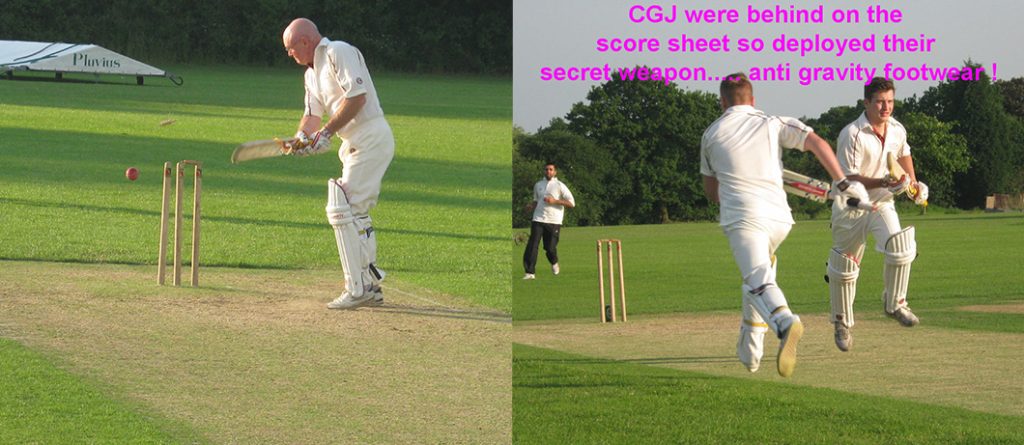 Craig was next in but was also facing the demon bowlers. Despite this Craig put 10 runs to the CGJ total which were much needed.
Craig was bowled out being quickly replaced by Carl but unfortunately Carl failed to make any impression being bowled out by Richard. Peter followed Carl & after scoring 1 run was bowled by Sandesh. The CGJ team were glad that the 2 bowlers had now fulfilled their quota of balls.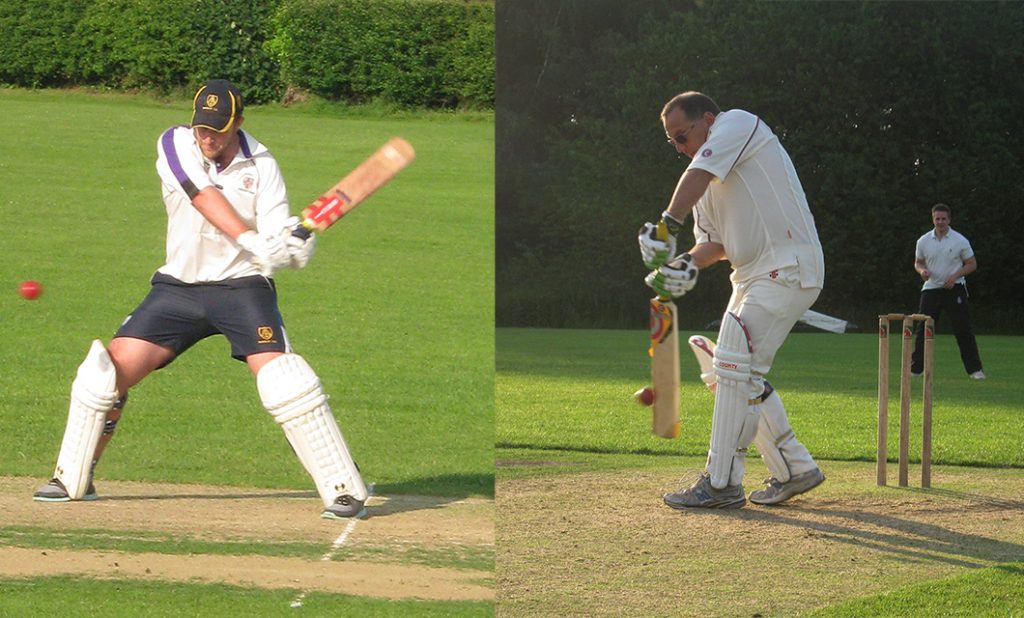 Leigh Moore went out & very quickly returned for no score being bowled by Greg, was there to be no respite for the CGJ team?
Geoff went out to bat & managed to stay out in the field for the full 4 overs scoring 5 runs not out. Christopher Tooze added another 7 runs before being run out by a member of his own team.
CGJ's new recruit Jason 'Goth' Hardcastle made his debut appearance for the CGJ team despite being told he could not have an all black strip. Jason scored 2 runs before being bowled by Oliver.
Henry came out for his second session of batting & now that the Vinci red hot bowlers were absent he knocked the ball about scoring an impressive 41 runs. Alister followed this time managing to score a single before being bowled by John Burland.
Will once again came out & brought his total score up to 11 before being caught. Carl followed & scored 4 runs when Richard made another appearance swiftly bowling him out.
At the end of the match CGJ had scored 109 runs, normally a good enough score to win the match. However the impressive score set by the Vinci team was unreachable on this occasion & so the victory went to Vinci Construction….but there is always next year!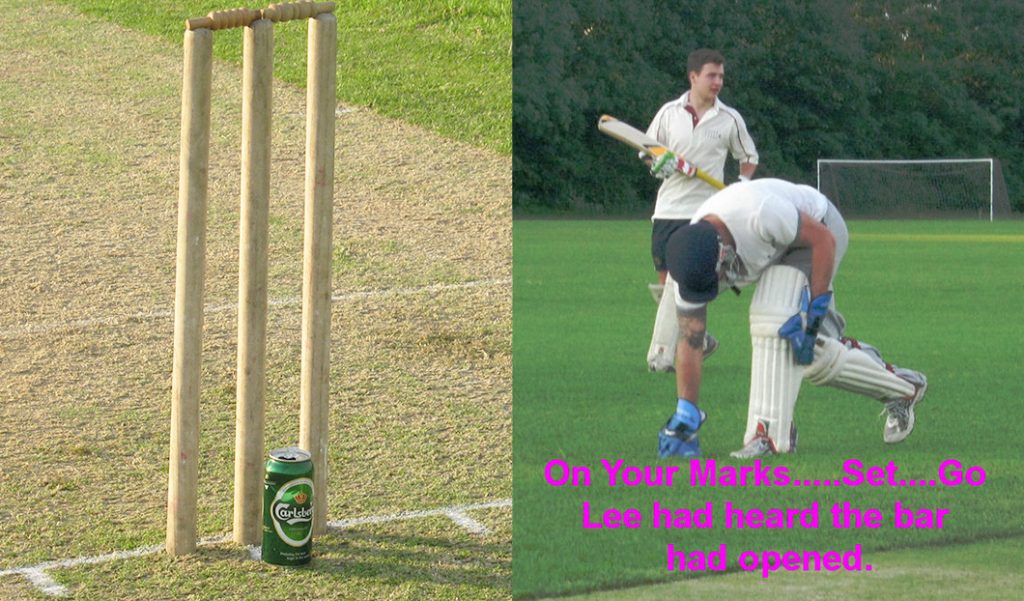 With the Pavillion dismantled it was all back to the clubhouse for the barbecue & a few beers which on this rare occasion was eaten out doors.
Many thanks to all who participated, organisers, players, spectators, lifters & carriers including the guest appearance of Reg 'Score Sheet' James who came out of retirement to keep tally.
We all had a terrific time & eagerly look forward to next year's match. Lets hope the weather is as good as this year.